Sci-Fi Seeing Ear Theatre: relatos E.C. en audio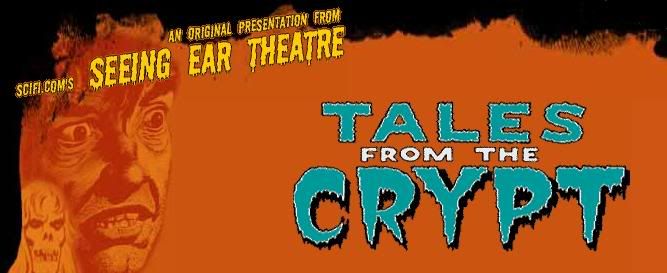 En la página web americana del canal de satélite "Sci-Fi" (quienes también publican una recomendable revista en castellano que puede descargarse
aquí
) hacen adaptaciones de algunos relatos clásicos de las cabeceras de terror en forma de narración teatral. Haciendo un clik
aquí
, vamos a la página.
Por ahora llevan ocho episodios, alguno de los cuales son básicos dentro de E.C. ("A Little Stranger", sin ir más lejos, narra el origen de la Vieja Bruja), y aunque ahora se encuentran en parada técnica, anuncian más capítulos próximamente. Aunque los capítulos están en ingles, se pueden entender sin problemas con un mínimo de conocimiento del idioma, las voces son claras y la pronunciación es muy limpia.
Las adaptaciones son bastante libres, y algunos detalles están actualizados, pero el espíritu E.C. esta ahí. Se puede pasar un rato divertido oyendo la estupendamente conseguida voz del Guardián de la Cripta (John Kassir), acompañado por las voces ocasionales de Gena Gershon, Luke Perry, Tim Curry, Oliver Platt o John Ritter.
Y en la página general del "Seeing Ear Theatre" se puede encontrar a Neil Gaiman escribiendo ("Snow Glass Apples" y "Murder Mysteries"), adaptaciones de Clive Barker ("The History of the Devil") o de J. M. Straczynski ("City of Dreams"), o a Mark Hamill en el papel principal ("Into the Sun") entre muchas otras curiosidades.